ginger beet soup
vegetable broth
beets (minced)
ginger (minced)
any/every vegetable in your house!
oregano
basil
olive oil
sea salt
boil the vegetable broth with the beets & ginger. i really cannot tell you how much ginger to put in, since i am sort of known for overdoing it. i cannot help it! everything tastes better with ginger in it. i'd eat a stop sign if you added ginger. anyway, have fun with the beets! the more you use the deeper the color will be, & honestly that is half the fun with this soup!  sautée the other vegetables in a frying pan with olive oil, adding about a pinch of basil, oregano & sea salt. i used celery, potatoes, onions, garlic, bell peppers, & peas :) i kept these in the pan until i could cut through the potato with my spatula (but i like my 'tatoes pretty mushy). cover them to make them cook faster if you're worried about time. once the veggies are ready, toss them in the pot with the gingery broth! let it simmer. you can add tofu to the recipe if you'd like a little extra something. my soup is already pretty chunky as is!
for non-vegans: add sour cream for a thicker soup, even a little chicken for some protein :)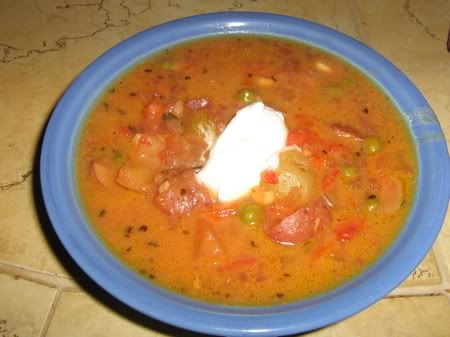 i ate 2 bowls worth! please note the potatoes have turned pink from the beets. this photograph does not do the neon pink soup much justice. i blame the flash for making it look orange. you'll have to take my word for it!
1 note
mknmv likes this
loveandzombies posted this